MIKE PORCARO – BROTHERLY LOVE
Live CD Sees All-Star Friends and Family Unite in Support of a Musical Brother
If there was ever a bassist who dug into a groove, it's Mike Porcaro, whose years of sessions and time with Toto created a massive legacy of sensational music. With his hands spanning either end of his 5-stringer he played with such intent, musicality and taste that one would be hard pressed to find a more competent, confident or capable keeper of the low end. Unfortunately, when numbing sensations in those hands resulted in him having to tape his fretting hand to the neck of his bass in order to play, it was obvious Mike had a problem. Today that problem – Lou Gehrig's disease (ALS) – now threatens his life.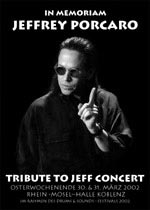 To raise funds to support the ailing musician, Mike Porcaro – Brotherly Love, a limited edition 2-disc live CD has been released. This music was originally recorded at the 2002 event in Koblenz, Germany that celebrated the life and music of Mike's brother and Toto bandmate, Jeff Porcaro, whose death in 1992 shocked the music world. Now that music is for Mike.
Featuring an all-star line-up that sees Mike grooving on fifteen tunes – vocal and instrumental – with fellow Toto members Steve Porcaro on keys and singer Bobby Kimball plus drummers Steve Gadd, Bernard Purdie, Gregg Bissonette, 'JR' Robinson and Robin DiMaggio; percussionist Lenny Castro; vocalists Glenn Hughes and Alex Ligertwood; as well as keyboardist Dave Garfield and others including Mike's father, drummer Joe Porcaro, this release is a serious delight. Toto classics 'Rosanna', 'Africa' and 'Georgy Porgy', Jimi Hendrix's 'Manic Depression', Boz Scaggs' classic 'Lowdown' and Al Green's 'Let's Stay Together' are served up with the passion one would expect from a cast of top musicians having a fun but heartfelt time. While the band is always tight and tasteful, there are moments when the vocals suggest at bit too much enthusiasm (notably on 'Let's Stay Together'), but with Gadd cutting the grooves on all but four numbers, these tracks swing and swagger with bold authority, real authenticity and tasteful restraint. The sound is very 'live', clear, crisp and revealing throughout, with audience sounds mixed down to a minimum.
'Rosanna' kicks things off and plays to the spirit of the original. Doug Bossi's guitar solo digs down low, while Kimball and Hughes handle the vocals. 'Manic Depression', sees drummer Steve Gadd tearing it up with flams and triplets as Hughes wails over the guitar riffing. 'Georgy Porgy' and a freshly funkified take of Boz Scaggs' 'Lowdown' are reminders subtlety as power in funk grooving. 'E Minor Shuffle' is a instrumental redux of Steely Dan's classic 'Black Friday' riff, while 'Africa' sees Gadd, DiMaggio, Bissonette and percussionist Castro deliver a smooth underlay for vocalists Kimball and Ligertwood on another Toto classic.
Other highlights, include Joe Porcaro's soloing in 'Straight, No Chaser' and Bernard Purdie joining Bissonette to recreate his 'Purdie shuffle' on Steely Dan's 'Babylon Sister.' Overall, this set of songs by these great players is an exciting once-in-a-lifetime performance. Whew!
Brotherly Love – Mike Porcaro is a reminder that like his father Joe and brothers Jeff and Steve, Mike is more than just a great musician; he is someone who always brings something more – his musical self and a consistently creative spirit – to the music.
All proceeds from the sale of this tremendous CD go to benefit Mike Porcaro and his family.
Get your copy at
www.creatchy.com
- Wayne Blanchard